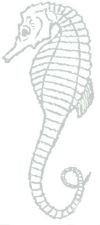 Sean Geer is a writer, author and occasional camera for hire. He writes about things as diverse as flyfishing, travel, wildlife and technology, usually in exchange for money. He is also an obsessive fisherman, and will do more or less anything in the pursuit of things with fins.
Once, Sean was a marine biologist (hence the seahorses). Then, he was a magazine editor. He was managing editor at Wired magazine in London, for example, back when this Web thing was shiny-new and it was all trees round here. Now, he is self-employed and writes for a somewhat eccentric collection of magazines, newspapers and websites. He is also the author of various not-so-new books, such as The Economist Books' Essential Internet - now out of print but which he thinks you should probably buy anyway, despite the fact that it contains nothing about trendy, modern stuff like Facebook or Twitter.
That just about pays the rent, but he is always in need of extra funds for his extravagantly self-indulgent lifestyle, so he does lots of other things too; especially speech writing and various kinds of spin doctoring, god help him. More on all this later. Meanwhile, contact him if you'd like more info.